Stories to amuse, frighten and disturb.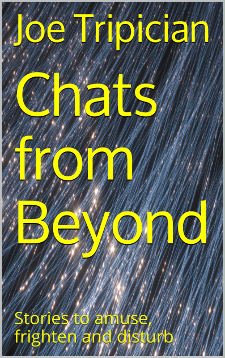 From the prolific, off-world mind of author Joe Tripician comes a collection of compelling stories -- told in the form of chat conversations. Like listening in on private dialogues, these are tales to move, confound, surprise, and inspire.
Available at the Amazon Kindle store
22 Short Stories that push creative fiction kicking and screaming into the modern age.
Read for Free with Amazon Prime
CONTENTS:
LOVE
"Terminal Love"
Two lovers find that playing with love is more difficult than playing with disease.
"The Love Bot"
An out-of-control dating bot makes swiping-right permanent.
"Virtual Love"
Your virtual assistant has different plans for you.
"Where's My Driver?"
When your driver finds more for you than lost property.
FEAR & DANGER
"Invitation to Danger"
Trying to keep a family together becomes a losing game.
"The Click-Bait Killer"
An ethically challenged blogger commits murder to keep one story alive.
"Under the Influence"
A senator's son finds deceit and death behind the wheel.
"Bonfire Bacchanalia"
If you keep the ravers waiting, they may Rand you out of existence.
"Secrets Under Siege"
A group of teens must reveal their innermost secrets to stop a killing spree.
"Straight Outta Oakland"
Fear, uncertainty and doubt turn an average night into a wrongful death.
TRICKS & GIGGLES
"Flip this Party"
When the cat's away, the mice flip out.
"Crime Spree"
Bling Ringers Gone Wild
"Steve Jobs in Hell"
Siri says: Be nice to those on your way up.
"Helicopter Moms"
Teen girls whose lives are controlled by their mothers find that revenge is not always sweet.
"Psych Out"
A Story Slam turns into unexpected psychic mind games.
THE BIZARRE
"All Seeing"
A new hire finds her Terms of Employment fatal.
"The Other Mother"
A daughter discovers that her mother is no longer her mother.
"Death by Hospital"
Things go very wrong in a very crazy hospital.
END TIMES
"Locust Apocalypse"
The family that fights together, dies together.
"Outbreak"
A spurned lover turns stalker and releases a plague.
"Nursing Home Apocalypse"
Alive or Dead, he will always be your father.
"Dead Enders"
Two star-crossed lovers become more alone than they ever desired.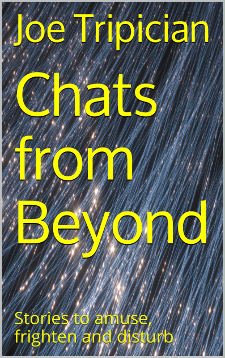 Read for Free with Amazon Prime