EXCLUSIVE ILLUSTRATIONS FROM THE GRAPHIC MEMOIR-IN-PROGRESS BALKANIZED AT SUNRISE
from SURROGATES Illustrator Brett Weldele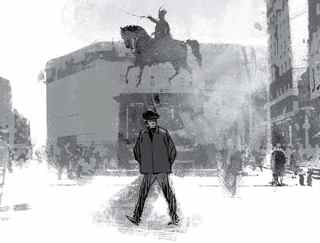 Eisner nominated painter BRETT WELDELE's work includes the graphic novel prequels to the Richard Kelly science fiction film, SOUTHLAND TALES, and THE SURROGATES (with Robert Venditti which was made into the film by TERMINATOR 3 director Jonathan Mostrow starring BRUCE WILLIS).
Weldele has also worked on SHOT CALLERZ (with Gary Phillips), JULIUS (with Antony Johnston), and COUCOUS EXPRESS (with Brian Wood). He worked for MARVEL COMICS on the miniseries, THE B SIDES. In addition to his books, Brett creates promotional artwork for film festivals and events that cater to comic book-themed audiences.
His work has covered a wide range of genres including crime, science fiction and superheroes and has worked with MARVEL, TOP SHELF, ONI PRESS, IMAGE, GRAPHITTI DESIGNS, AiT and ZENESCOPE. His unique fusion of pen and ink and toner and paint has caught the eye of fans and critics alike.
SAMPLES FROM BRETT WELDELE'S WORK ON THE GRAPHIC MEMOIR: "BALKANIZED AT SUNRISE", WRITTEN BY JOE TRIPICIAN:
Joe in Zagreb Square: