From the March 1, 2002 edition of Novi List -- Croatia's Only Daily Independent Newspaper:
Note: translations are approximate, and errata corrected by me.

Izdanje za: Petak, 1.3.2002. / Edition: Friday, 1/3/2002.
U NEW YORKU PREDSTAVLJEN MATERIJAL ZA NIKAD OBJAVLJENU KNJIGU O FRANJI TUĐMANU, KOJU JE PO OVLAŠTENJU HRVATSKE VLADE OD AMERIČKOG SF PISCA JOEA TRIPICIANA PRIJE PET GODINA NARUČIO JAKOV SEDLAR
Tuđman u Titovoj sjeni nije prošao
Osim naslova knjige »U Titovoj sjeni«, Sedlar mi je poručio da izbacim sve što ima veze s ratom u Bosni, s Tuđmanovom komunističkom prošlošću, s ratnim kriminalcima, sve o Hercegovini, o zarobljenicima u hrvatskim logorima, o tome da je Tuđman od Vukovara napravio žrtveno janje, o paležu za vrijeme »Oluje«…, ističe Tripician
TRANSLATION:
IN NEW YORK PRESENTATION MATERIAL FOR NEVER PUBLISHED BOOK ON FRANCIS TUĐMANA, which was authorized by the CROATIAN GOVERNMENT by the American SF writer Joe TRIPICIAN five years ago ordered by Jakov Sedlar
Tudjman in Tito's shadow did not pass
"In addition to the title of the book "In Tito's shadow," Sedlar said I was to drive out all that has to do with the war in Bosnia, Tudjman with the communist past, with war criminals, all of Herzegovina, the Croatian prisoners in concentration camps, that Tudjman of Vukovar made a sacrificial lamb, the flames during the 'Storm'" ... emphasizes Tripician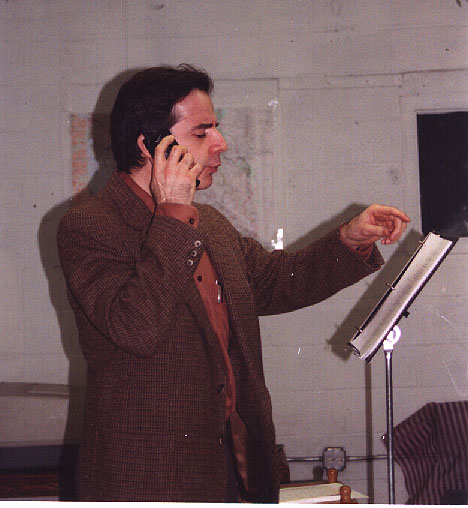 Američki SF pisac Joe Tripician sreo se ljeti 1997. u New Yorku s Jakovom Sedlarom. Tadašnji kulturni ataše Republike Hrvatske u Sjedinjenim Američkim Državama angažirao je Tripiciana da napiše biografiju o hrvatskom predsjedniku Franji Tuđmanu. Amerikanac je obavio posao, ali knjiga, koju je autor naslovio »Titovoj sjeni«, nikad nije objavljena. Naime, u prosincu 1997. prvi je dio rukopisa predstavljen Uredu predsjednika RH. Ono što su pročitali nije im se ni najmanje svidjelo.
Pet godina kasnije nesuđeni službeni Tuđmanov biograf odlučio je izići u javnost sa scenskim prikazom pod nazivom »Balkanized at Sunrise« u kojem je izložio svoju avanturu. Svoje djelo predstavio je u New Yorku, u prostoru neprofitne udruge »Raccoon«, 16. siječnja.
TRANSLATION:
American SF writer Joe Tripician met in summer 1997 in New York with Jakov Sedlar. Former cultural attaché of Croatian in the United States hired Tripician to write the biography of the Croatian president, Franjo Tudjman. American business is conducted, but the book by the author entitled "Tito's shadow," was never published. Specifically, in December 1997 the first part of the manuscript presented to the Office of the President of the Republic of Croatia. What they did not read them or at least liked.
Five years later, untried Tudjman's official biographer decided to go out in public with a stage display entitled "Balkanized at Sunrise," in which he outlined his adventure. His work has been presented in New York, in the space of a non-profit association "Raccoon", 16 January.
Kako je došlo do susreta s Jakovom Sedlarom?
– Moj tadašnji doktor imao je vezu s jednom ženom iz hrvatskog visokoga društva, koja je Sedlarova poznanica. Ona je znala da Sedlar traži nekoga za neki spisateljski posao, pitala je mog doktora za pomoć i on je preporučio mene. »Čuj, imam jednog čovjeka iz Hrvatske kome treba pisac, dobro plaćen posao«, rekao mi je doktor. Ja sam tada bio u kriznom razdoblju, razveo sam se od žene koja je bila i moj poslovni partner, trebao mi je posao. Tako smo se jednog lijepog ljetnog dana u New Yorku upoznali Jakov i ja. Predstavio se kao kulturni ataše RH u New Yorku i rekao da ga je hrvatska Vlada ovlastila da nađe osobu koja će napisati službenu biografiju predsjednika Republike Hrvatske dr. Franje Tuđmana. Pokazao mi je tada i fotografiju na kojoj se rukuju Bill Clinton i Franjo Tuđman. »Clinton voli Hrvatsku«, rekao mi je Sedlar.
TRANSLATION:
How did you meet with Jakov Sedlar?
- My doctor then had a relationship with a woman from Croatian high society, an acquaintance of Sedlar. She knew that Sedlar was searching for a literary writer, she asked my doctor for help and he recommended me. "Listen, I have one man for the job, but you gotta pay him well," my doctor told him. At the time, I was in a period of crisis, I was recently divorced from my wife who was also my business partner, I really needed a job. So one fine summer day in New York I meet Jakov. He presented himself as the cultural attaché of Croatia in New York and said that he was authorized by the Croatian Government to find a person to write the official biography of Croatian President Franjo Tudjman. Then showed me a photo on a glossy brochure of Bill Clinton and Franjo Tuđman. "Clinton loves Croatia," said Sedlar.
Jednostavno, bio sam pri ruci
Zašto baš vas? Imate li iskustva u takvom poslu?
– Neee! Jedini razlog proizlazi iz onog što sam rekao prije. Ja sam jednostavno bio pri ruci, poznanik poznanika, Amerikanac, pisac. Očito je to bilo dovoljno. Ostao sam iznenađen kada mi je ponudio takav posao. Ja sam nagrađen Emmyjem za producentski posao, ali u pisanju nemam previše uspjeha. »Ali, gospodine Sedlar – velim mu – ja sam autor SF knjige The Official Alien Abductee's Handbook (Službeni priručnik o ljudima koje su oteli izvanzemaljci), to je SF parodija, ja nemam iskustva koje vama treba«. »Ne – decidiran je bio Sedlar – vi ćete biti pravi čovjek za taj posao, ne brinite ništa«. I ja sam rekao da. Rekoh sam sebi: nemoj biti budala, tko zna kad ćeš opet imati ovakvu priliku, imaš šansu za neponovljivo iskustvo. Naravno, pristao sam nakon što smo dogovorili cijenu.
TRANSLATION:
It's simple, I was available.
Why you? Do you have experience with such work?
- Nooo! The only reason stems from what I have said before. I was simply available, a ready acquaintance, an American, a writer. Obviously that was sufficient. I was surprised when I was offered this job. I received an Emmy for a PBS documentary I produced, but I'm not an author with a lot of published books. "But, sir, Sedlar – I tell him - I am the author of the science fiction book "The Official Alien Abductee's Handbook (A self-help guide on how to recover from alien abductions), it is a parody of science fiction, I don't have the experience that you need." "No," - he was persistent, that Sedlar – "you will be the right man for the job, do not worry about anything." And I said yes. I said to myself: Don't be a fool, who knows when you will again have this opportunity. You have the chance to experience something unique. Of course, I agreed after we agreed the price.
Vrlo ste jednostavno dobili, kažete, dobro plaćen posao. Koliko ste novca dobili od Sedlara, odnosno od hrvatske Vlade?
– Dobio sam dovoljno. A da je bilo jednostavno, bilo je. Ali vam se kunem da je sve ovo istina i samo istina. (Potonjom je rečenicom Tripician i počeo svoje scensko izlaganje u kojem je u »Raccoonu«, među ostalim, iznio dijelove svoje neobjavljene knjige – op.a.).
TRANSLATION:
It was very easy to get, say, a well-paid job. How much money you get from Sedlar, and the Croatian government?
- I got enough. And it was easy, yes. But I swear to you that all of this is the truth and nothing but the truth. (The latter sentence Tripician and began his theatrical presentation at "raccoon", with among other things, parts of his unpublished book).
Put vas je onda vodio u Zagreb…
– Ne samo u Zagreb. Bio sam u Sarajevu, Sloveniji, razgovarao sam s Richardom Holbrookeom, Peterom Gailbraithom, s Warrenom Zimmermannom, s mnogim političarima na vlasti i opoziciji u Hrvatskoj, Bosni i Hercegovini i Sloveniji. Susreo sam se s feralovcima, s progonjenim Romanom Latkovićem, s Matom Bobanom koji bi da je živ, sigurno bio čovjek broj dva na svjetskoj listi traženih ratnih kriminalaca. Ali, vi radite posao, ne znate s kim imate posla. Velik sam broj ljudi intervjuirao. Da bih napisao biografiju o jednom od glavnih aktera događanja na prostoru bivše Jugoslavije morao sam si dati truda. Moje je znanje, iskreno ću vam reći, do tada bilo vrlo skromno.
TRANSLATION:
Then you headed to Zagreb ...
- Not only to Zagreb. I was in Sarajevo, Slovenia, I spoke with Richard Holbrooke, Peter Gailbraith, with Warren Zimmermann, with many politicians in the government and the opposition in Croatia, Bosnia and Herzegovina and Slovenia. I met with the persecuted journalist Roman Latković, and with Mate Boban's close political associate. If Boban was still alive, he'd surely be the number two most wanted Croatian war criminal in the world. But you do a job, you do not know with whom you will work. I interviewed a great number of people. I've written a biography about one of the main protagonists of the events in former Yugoslavia, I had to treat it as a serious effort. My knowledge of the events there, I will honestly tell you, until then was very modest.
S Tuđmanom ukupno tri sata
Koliko ste se puta susreli s Tuđmanom?
– Dva puta, odnosno u dva sam dana ukupno razgovarao s njim tri sata. Čitav je razgovor snimljen, pa ako vas zanima, mogu vam pokazati. Ukratko, bio je paranoično opsjednut hrvatskom državom, paranoični nacionalist. Tako sam ja to vidio. U Zagrebu su mi dali jednu mladu djevojku za asistenta, 26 godina. Sjećam se da mi je pričala, kad već kažete da ste iz Istre, da ljudi u Istri misle da je ono što se radi u Zagrebu nacionalističko sranje, a da u Zagrebu misle da su Istrani povezani s Italijom. No, prije susreta s Tuđmanom imao sam razgovor s Vladom (tako ga je imenovao – op.a) koji mi je postavio tri pitanja: što znam o ustašama, što znam o četnicima i što znam o ratu u Jugoslaviji, ovom zadnjem ratu. Ja sam mu rekao ono što znam, ustaše su bile to i to, četnici ono i ono, onda velim da je Milošević preuzeo kontrolu nad JNA. Tri kratka odgovora nakon kojih mi su govornik decidirano kaže: »Odlično, ti si prava osoba za knjigu.«
TRANSLATION:
With Tudjman three hours
How many times did you meet with Tudjman?
- Twice, in two days I spoke with him a total of three hours. The entire conversation is recorded, so if you are interested, I can show you. In short, he was a paranoid obsessed with the Croatian state, a paranoid nationalist. That's what I saw. In Zagreb, they met a young girl, 26 years old. I remember she told me that the people in Istria think the people in Zagreb are shit, because they live in the city and not along the coast. The people in Zagreb think they are too envious of the Italians. But before meeting with Tudjman she asked me three questions: what do I know about the Ustasha, Chetniks; I know about and what I know about the war in Yugoslavia, the last war. I told her what I know, Ustashi were this and that, and that the Chetniks, then I say that Milosevic took control of the JNA. Three short answers after which she resolutely exclaimed: "Great, you will write good book."
Napisali ste knjigu koja nikad nije objavljena.
– Čim sam se vratio u New York, u jesen 1997., počeo sam pisati. Jakov je insistirao da knjigu napišem što prije. Ovdje u New Yorku zaposlio sam asistenta, zove se George, student je na sveučilištu Columbia, inače Amerikanac hrvatskog podrijetla. On mi je puno pomogao da saznam što više podataka…
Ali, za njega ste u izlaganju rekli da je radio za CIA-u.
– Nisam u to siguran, ali iz par izvora dobio sam informaciju da je on CIA-in čovjek.
Kad smo već kod čudnih likova, nekoliko ste puta spomenuli čovjeka nazvanog The Priest (Svećenik). Rekli ste da se radi o visoko pozicioniranom čovjeku među Hrvatima u Hercegovini, vrlo bliskom Mati Bobanu. Nisam shvatio tko je on.
– To vam ne mogu reći. Iz više razloga. Kao prvo, obećao sam da to neću otkriti, iako sam o tom pitanju telefonirao u Haag.
TRANSLATION:
You wrote a book that was never published.
- As soon as I returned to New York in the fall of '97, I began to write. Jakov insisted that I finishethe book as soon as possible. Here in New York, I hired an assistant, named George, a former student at the University of Columbia, an American of Croatian origin. He helped me a lot to find out more details ...
But for him, you have to expose said that he worked for the CIA.
- I'm not certain of this, but from a few sources I received information that he was a CIA man.
Speaking of strange characters, you have several times mentioned a man named The Priest. You said that he was a high-ranking person among the Croats in Herzegovina, very close to Mate Boban. I do not realize who he was.
- That I can not say. For several reasons. First, I promised that I would not reveal his name, even though I sent copies of all my interviews to The Hague.
Karta iz '39 kao ideal
Da se vratimo knjizi. Dva su izdavača spomenuta, oba vrlo poznata. Američki Random House i britanski Harper-Collins. Koliko znam, tamo nitko nema pojma o tome.
– Ono što ja znam jest da mi je Sedlar rekao da će Random House objaviti knjigu. Da nastavim. Kad su tražili, nisam se libio dati na uvid da pogledaju što sam dotad napisao. Uostalom, dobro je čuti mišljenje drugih i popraviti na vrijeme ono što se može popraviti. Tako je u prosincu 1997. preko hrvatske misije pri UN-u u Zagreb otišla bilješka o prvih 137, od ukupno oko 800 stranica moje knjige. Samo iz tog dijela su htjeli izbaciti puno toga.
Sumnjam da bi knjiga s takvim naslovom, »U Titovoj sjeni«, uopće izišla.
– Nije samo naslov. Jakov mi je poručio da izbacim sve što ima veze s ratom u Bosni, s Tuđmanovom komunističkom prošlošću, s ratnim kriminalcima, sve o Hercegovini, o zarobljenicima u hrvatskim logorima, o tome da je Tuđman od Vukovara napravio žrtveno janje, o paležu za vrijeme »Oluje« i tako dalje. Odgovorio sam u jednom pismu Sedlaru da bi ako izmijene i ubace ono što žele, time još više naštetili ugledu Franje Tuđmana, jer bi takva knjiga ispala još jedan propagandni materijal. Nisam mogao preći preko toga, na primjer, da je Tuđman kartu Hrvatske iz 1939. uzimao kao ideal. Također je očito da je Tuđman dizajnirao Zapadnu Hercegovinu ne samo kao zaštitnu branu za Dalmaciju, već kao etnički čist prostor čvrsto vezan za Zagreb. Na kraju, smatram da bi, da sam dopustio izmjene, to narušilo moje ime i profesionalnu reputaciju. Nisam, rekao sam Sedlaru, htio biti mouthpiece (onaj tko govori u ime drugih). I onda je sve stalo.
Da, dogovorili smo i cijenu kao odštetu za izgubljenu zaradu od prodaje moje knjige. Postojao je prijedlog da oni izbace sve što žele, pa i da knjigu potpiše netko drugi. Od proljeća 1998. nisam se više čuo ni sa Sedlarom, niti s bilo kim iz hrvatske Vlade.
Piše Aleksandar BULAJIĆ MOSE'
Prilagodeno za ispis
TRANSLATION:
Map from '39 as an ideal
To return to the book. There are two publishers mentioned, both very well known. Random House U.S. and British Harper-Collins. But no one there has any idea about the book.
- What I know is that Sedlar said that Random House would publishe the book. When asked, I did not hesitate to accept comments, criticism, insight to my first draft. Anyway, it's good to hear other opinions and have the opportunity to fix them. So in December 1997, through the Croatian Mission to the UN a memo was written in Zagreb on the first 137 of a total of about 400 pages of my book. Only in this part they wanted to throw out a lot.
I doubt that such a book with the title, "In Tito's shadow," even came out.
- It's not just a title. Jacov told me to cut out everything about the war in Bosnia, all of Tudjman's communist past, everything dealing with war criminals, all of Herzegovina, the Croatian prisoners in concentration camps, that Tudjman of Vukovar made sacrificial lamb, the controversy of "Operation Storm," and so on. I replied in a letter to Sedlar that if those changes took place and were replaced with a white-washed reputation of Franjo Tudjman, that the book would turn out like just another piece of promotional material. I could not overlook that, for example, that Tudjman took the 1939 map of Croatia as his ideal. It is also clear that Tudjman's designs on Western Herzegovina Tudjman was not only as a protective barrier for Dalmatia, but as an ethnically cleaned space tightly linked to Zagreb. In the end, I knew that, if such a sanitized book was published, it would destroy my professional name and reputation. No, I said to Sedlar, I don't want to be a mouthpiece of the Croatian government. And then everything changed.
I offered to them to remove my name and publish whatever they wanted, as long as my name wasn't anywhere on the book. That was in the spring of '98. I never heard from Sedlar again, nor anyone else from the Croatian government.
Written by Alexander BULAJIĆ MOSE