From Globus Magazine, Published in Croatia for the week of May 18, 2007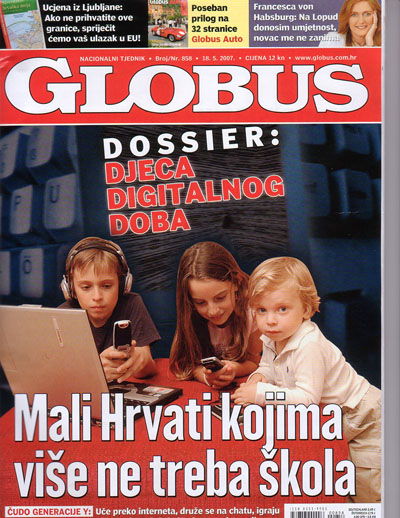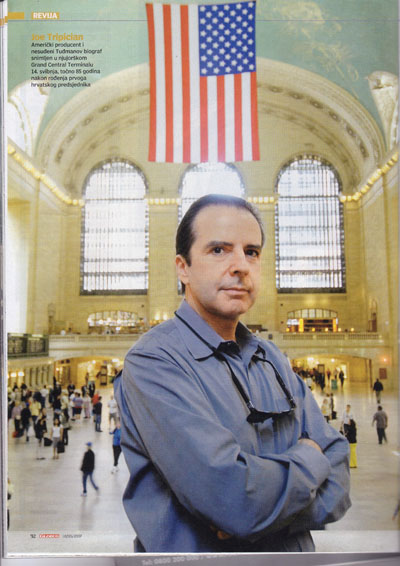 85th Anniversary of the First Croatian President's Birth/ Jakov Sedlar's Failed Project
Franjo Tudjman's Banned Biographer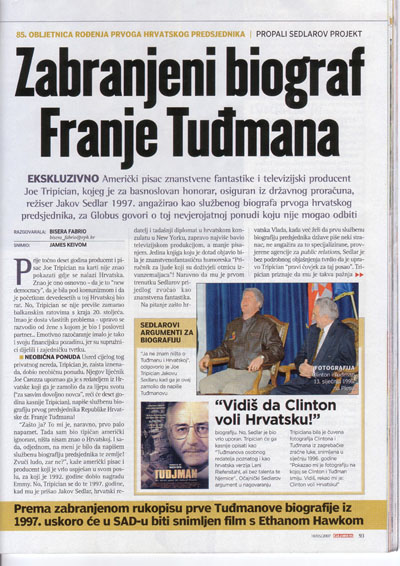 Exclusive: American science fiction writer and TV producer Joe Tripician, hired in 1997 by Jakov Sedlar for an exorbitant fee paid from the state budget to be the official biographer of the first Croatian President, talks to Globus about the incredible offer he could not refuse.
Interview by Bisera Fabrio (This email address is being protected from spambots. You need JavaScript enabled to view it.)
[Translation by Bojana Zezelj ]
Exactly ten years ago, the producer and writer Joe Tripician was not even able to find Croatia on the map. He knew the basics – that it was "a new democracy," previously ruled by a communist regime, and that a war took place there at the beginning of 1990s. In any case, Tripician was not terribly interested in Balkan wars of the late 20th century. He had enough personal troubles – he was in the process of separating from his wife who was also his business partner…Emotional problems were thus compounded by financial issues, since the spouses were joint owners of their company.
UNUSAL OFFER: In the midst of this personal mess, out of the blue Tripician received a truly unusual offer. His physician introduced him to a Croatian filmmaker who asked Tripician to write, for a very nice sum ("more than enough money," as Tripician will say ten years later), an official biography of the first Croatian President, Dr. Franjo Tudjman!
"Why me? That was, obviously, the first thing that came to my mind. I was a typical 'ignorant' American at the time, I knew nothing about Croatia. And then, suddenly, I was asked to write the official biography of the country's President! Sounds crazy, doesn't it," says the successful American writer and producer who received an Emmy in 1992. But at the time Tripician was approached by the Croatian filmmaker and diplomat Jakov Sedlar in 1997, his work had turned mainly to TV production, and he did not really focus on writing. The only book he had published by then was a humorous SF novella "The Official Alien Abductee's Handbook". Not surprisingly, Sedlar's offer at first sounded to him like another piece of science fiction.
When asked why the Croatian government, if selecting a foreigner to author the first official biography of the country's President, did not approach one of the renowned and specialized public relations agencies, Sedlar did not offer an explanation, but insisted that Tripician was "the right man for the job." Tripician admits that he found the attention flattering and as soon as he got home that day, he started, out of curiosity, to research the life and work of Croatia's first President. But he didn't like what he found: American media were mentioning an authoritarian regime, war, war crimes…But the offer he received was not great only financially, to help him out of the troubles he was having at the time, but also because it presented him with a new challenge. Tripician loved the idea of going on a real journalistic assignment to an unknown country where he would be researching the life of its President. The Croatian government was going to pay all expenses. The biography was going to be published by the prestigious Random House and Tripician was to spend a few weeks in the region, to conduct interviews and meet with Tudjman.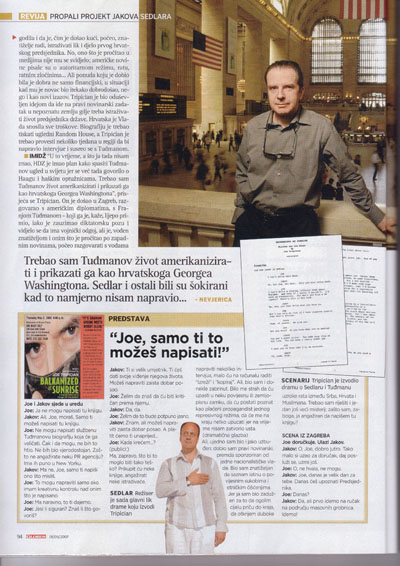 "At that time, unbeknownst to me, Croatian Democratic Union (HDZ) had started working on a plan to salvage Tudjman's reputation in the world, because the stories of the Hague Tribunal and indictments had started to circulate. "I was supposed to Americanize Tudjman's life and portray him as the Croatian George Washington," remembers Tripician. He traveled to Zagreb, where he talked to American diplomats and eventually met with Tudjman who, Tripician says, was friendly despite his dictatorial posturing and obvious military background. However, curious and intrigued by what he had read in American papers, Tripician started talking also to opposition leaders and journalists. Sedlar would take him every day to meetings with Croatian top officials, but Tripician was not terribly impressed. As agreed, once he returned to the States, he started writing the biography. It was 400 pages long. Tripician gave it the title that in his opinion made the most sense: "In Tito's Shadow."
Unpleasant Surprise
There is no way of knowing how shocked everyone involved in ordering Tudjman's biography must have been in the end. Instead of a sugary panegyric to the first Croatian President, they had in front of them a biography that did little else but criticize Tudjman, the Croatian Democratic Union, the war and how it was fought, the treatment of Serbs. The original expectations were utterly betrayed, Tripician had missed their goal entirely. The first reading of the manuscript resulted in shock and disbelief. Sedlar immediately suggested that changes be made. "Can you take out some parts?" he asked Tripician. "Such as?" asked Tripician. "Those about our President's communist past," replied Sedlar. "But that would mean taking out half of the book," insisted Tripician. He continued to refuse to edit the text, and in the end half of the Croatian diplomatic corps in the US was secretly assigned the job of reading the book. Every sentence was scrutinized, and classified reports were issued about the disputed text. In short, the attempt to produce Tudjman's biography failed miserably.
Once it became clear that the biography would never be published unless major changes were made, Tripican wrote Sedlar a letter: "I too believe that international media's reporting on Croatia has been one sided. This is exactly why I think that an honest and accurate biography of Tudjman is necessary. But if I made the changes you suggest, this would become just another one of the many books devoid of any real content and serving as pure propaganda. I believed that our common goal was to dispel all misconceptions about Franjo Tudjman, while not shying away from controversy at the same time. Nowhere in the book did I portray Tudjman as a dictator. As we both know, he is a commander and general whose style belongs to the last century, and whose autocratic behavior has caused Croatia enough damage in the West. But I don't think we should take these parts out, because the book would no longer be truthful," wrote Tripician in the letter. The American writer and producer did not want to sign the book without its controversial parts, insisting that he did not want to be known as a mouthpiece for the Croatian government, singing praises to Franjo Tudjman without any objectivity or critical thinking.
IDENTITY
"While preparing to write the book and working on it, I spoke to many people. It is not possible to publish the book under a pseudonym because all my interlocutors knew my real identity. That would be ridiculous and it wouldn't take long for the people to realize would who the person behind the pseudonym really is. What is more, that would be false representation, which is something I don't want to do. Especially not in front of the people like Richard Hoolbroke, who spoke very openly about the situation in Croatia," wrote Tripician. Neither Jakov Sedlar nor the Croatian government ever responded.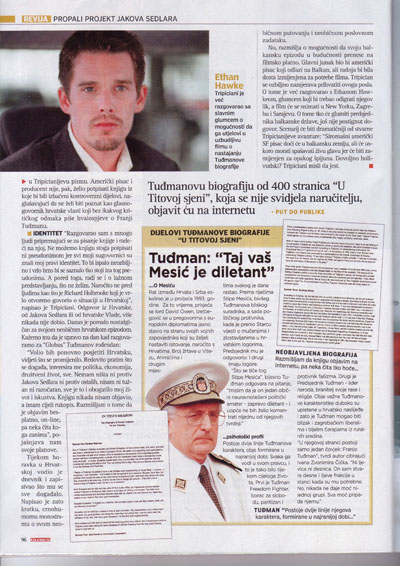 These days, he feels a little nostalgic about his strange Croatian episode. We tell him that we are talking to him exactly on the date of Tudjman's birthday. "I would like to visit Croatia again, find out how things have changed. I have been following what is going on, I am interested in its politics, economy, social life, everything. I have nothing against Jakov Sedlar or any of them, I am not sad or disappointed; it was all an interesting experience that has enriched my life. I have never published the book, although I have the completed manuscript. I am thinking about publishing it for free, online, let whoever wants to read it," Tripician explains to us his plans.
During his stay in Croatia, he kept a diary of his adventures. He later used it to write a short one-man dark comedy about his unusual journey and unusual professional assignment. But he has been thinking of possibly transferring his Balkan adventure to the big screen in the future. The hero would be an American writer coming to the Bakans, but the story would be considerably changed for the purpose of the movie. Tripician is serious about this project. He has already talked about it with Ethan Hawke who would play his character, and the film would be shot on location in New York, Zagreb and Sarajevo. As to who would play the Croatian President, no decision has yet been made. The screenplay will be more dramatic than Tripician's true adventure: "An impoverished American SF writer is coming to a Balkan state, but soon his life is in danger because he is mistaken for an evil spy." Is that "Hollywood" enough? Tripician thinks so.