"A Pizza Chegou" ("Pizza Run")
New short film by Joe Tripician
Watch the film here: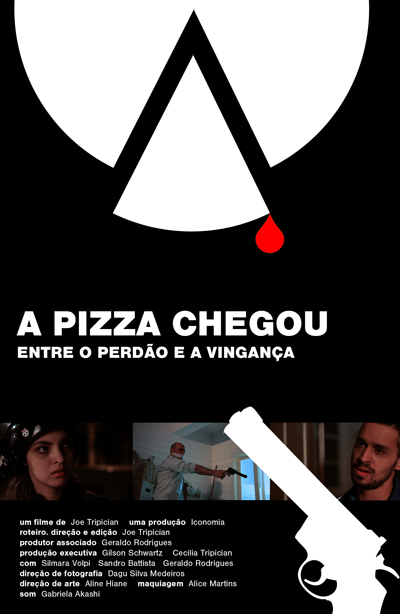 Official Selection at the Williamsburg International Film Festival: Sept 19, 2014
Official Selection at El Ojo Cojo Film Festival: Oct 3 - 12, 2014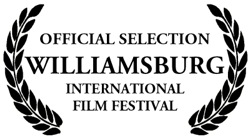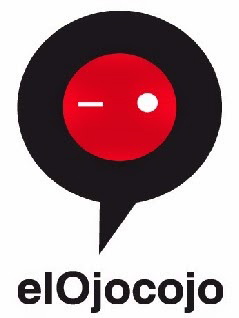 PREMIERE at the Dallas VideoFest
11º Festival Imagem-Movimento, Brazil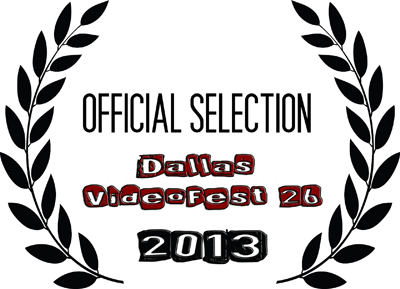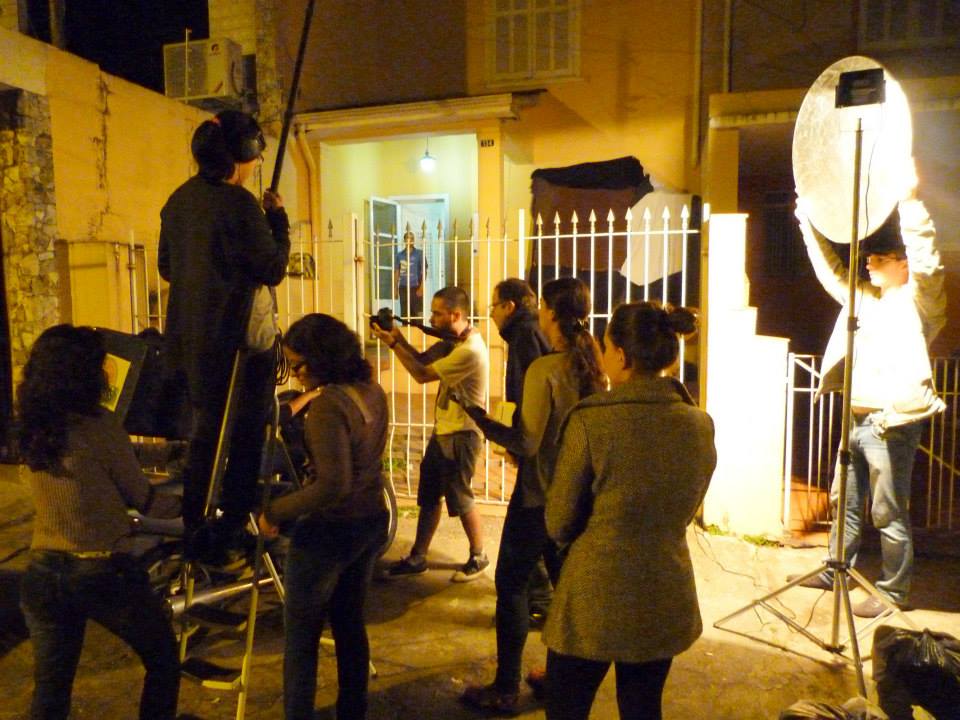 On location in São Paulo for "A Pizza Chegou" (All photos by Alice Martins)
Synopsis:
A young Brazilian girl has been evicted from a local slum along with her entire family. She delivers pizzas by motorbike to support them. By chance she encounters the man who evicted them, and faces a choice between forgiveness or revenge.
Production Notes:
The film was shot in São Paulo and São José dos Campos, Brazil.
Production Stills: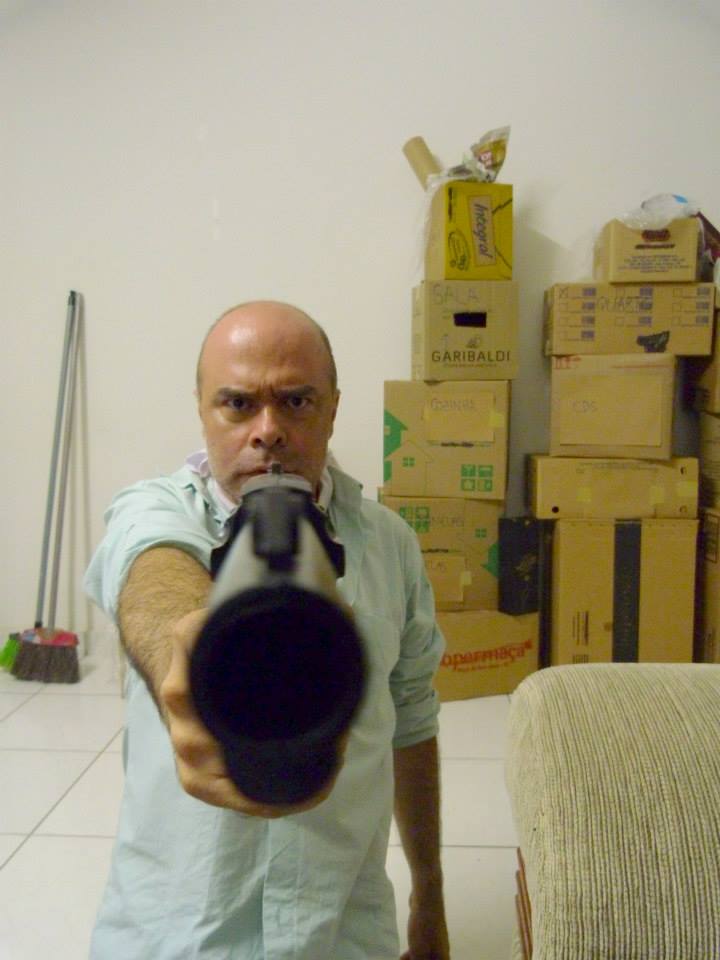 Actor Sandro Battista in action
Director's Statement:
This film dramatizes the issues of corruption versus transparency in the secrets each character holds.
It deals with justice versus revenge in the choices each character makes.
It shows the hard choices a motorcycle courier must face when confronted with the limited employment opportunities of her profession and her class.
The story and film pre-dates the recent protests on the streets of Brazil. We want to shed some light on the thorny problems a country faces that is struggling to grow in a time of great change amidst systematic corruption and injustice.
The past can be a major impediment to growth and democracy. We live in a time when reconciliation is a hot news topic, when punitive sentencing of government corruption is fiercely debated, and when the lower classes are on the razor's edge between violence and comfort. We need a wide and healthy debate about our identity and how we can move to a better future without regressing into the turmoil and troubles of the past.
We hope this short film will ignite a broader and deeper discussion, and lead us into a future of economic, social and moral equilibrium.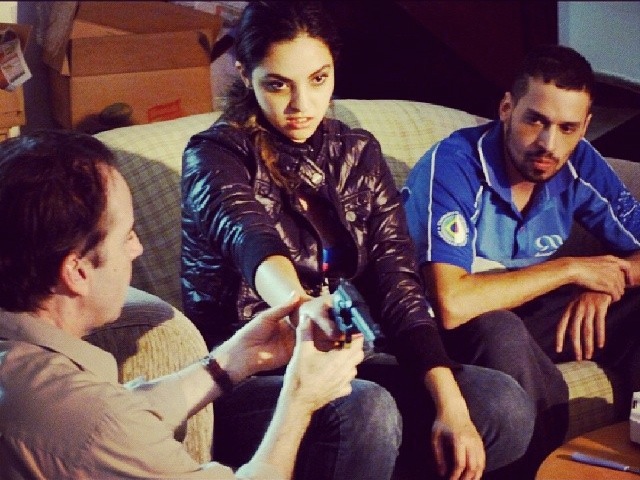 Joe helps Sil's aim: "It's in the wrist."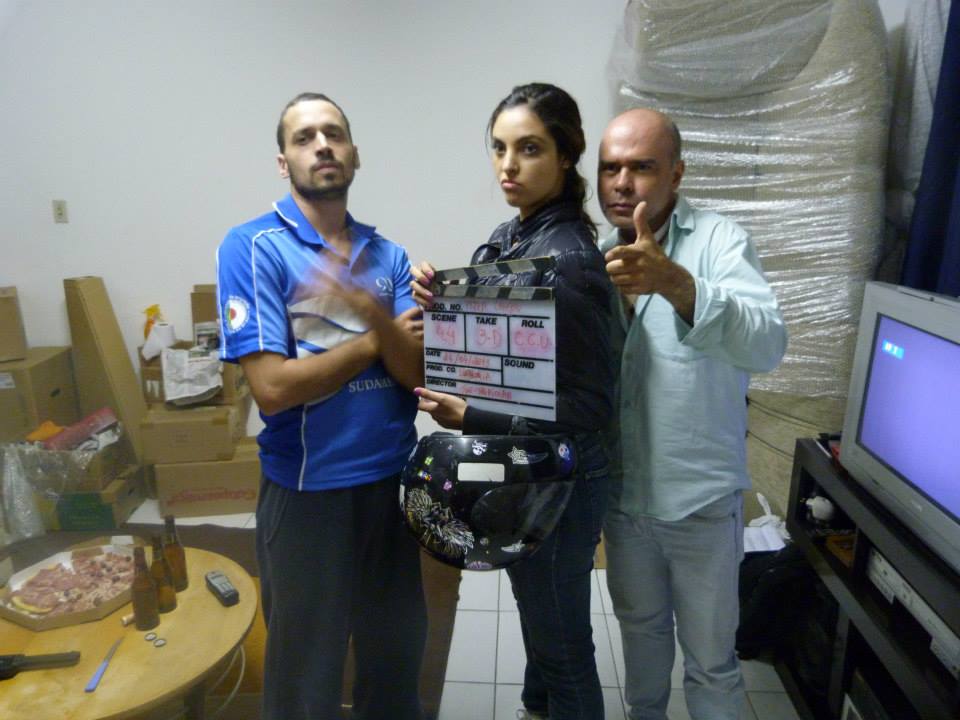 (L to R): Geraldo Rodrigues, Silmara Volpi and Sandro Battista giving major attitude
CREDITS
Written, Directed and Edited by
Joe Tripician
Producer
Geraldo Rodrigues
Co-Producer
Joe Tripician
Executive Producers
Cecilia Tripician
Gilson Schwartz
Cast
Suzana - Silmara Volpi
Homem - Geraldo Rodrigues
Dono da casa - Sandro Battista
Narrator - Kauê Telloli
Commentary- Eliot Tosta
Cinematography
Dagu Silva Medeiros
Assistant Cinematography
Daniel Corbani
Assistant Director
Aline Penna
Art Director
Aline Hiane
Assistant Art Director
Carmen Estevez
Sound
Gabriela Akashi
Makeup
Alice Martins
Colorist
Ricardo Herling
Production Assistants
Mariana Lopes
Jamin Trinidad
Song "Cidade com nome de santo"
Recording Artist - Ogi
Special Thanks
Rodrigo Correa
Rafael Patrick
Hemerson Celtic
Sindicato dos Metalúrgicos de São José dos Campos e Região
Naiara de Castro
Gabriel Godoy
Paulo Leierer
Giuliano Rossi
Toca dos Filmes
Eliety Teixeira
Oficina Cultural Oswald de Andrade
Dicezar Leandro
Marco Aurélio de Lima
Leandro Maciel
Carolina Togeiro
© 2013 Iconomia Produções Culturais Ltda.
Email the production, to keep informed of the latest screenings, film festivals and events:
MotoAnjos @ Gmail [dot] com