Web series takes humorous poke at web series "Love, betrayal and good drink make for a potent mix."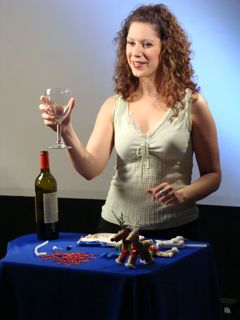 Actress Christel Ferguson
Watch KitchenSink Stories: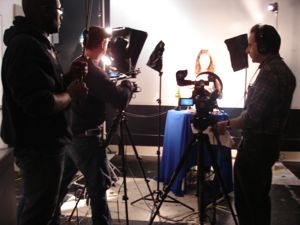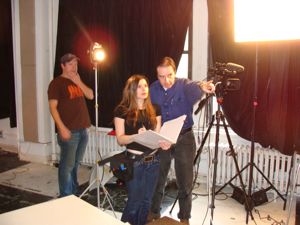 DP David Fasano, Script Supervisor/Producer Elena Primost, Writer/Director Joe Tripician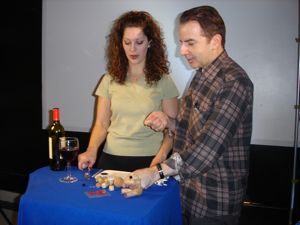 Christel Ferguson & Joe Tripician discussing the finer points of cork crafts.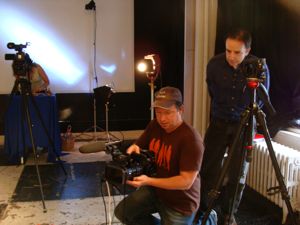 DP David Fasano & Joe Tripician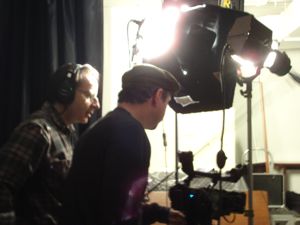 Web video is certainly old enough to be satirized, and the web series "Kitchen Sink Stories" proves it can also be dramatic and surprising while being funny.
A realized version of "Extras" for the web, "Kitchen Sink Stories" is an episodic video series that encourages user participation, including comments and suggestions for how future episodes should be written.
Written and directed by EMMY-award winner Joe Tripician, the story revolves around CherrySoda, web name for a young woman whose skill in designing craft items from corkfar exceeds her ability to handle the men in her life. While her web director, Charlie,suffers from permanent identity crisis, the show they are ostensibly shooting weaves in and out of their personal lives and the lives of the crew.
Tripician is no stranger to either video or the web. Joe worked professionally in TV and video production for over twenty years with his New York based production company Co-Directions. And in 1998 he helped pioneer video streaming services as a founding member of iStreamTV, also based in NYC, which provided encoding services and live webcasting products to corporate and entertainment clients.
Joe was the Director of Broadband Services for Medialink, a media communications firm listed on NASDAQ, where he was instrumental in launching Mediaseed.tv, an online news portal for journalists.
Speaking on his motivation for making the series, Joe said, "I wanted to experiment with viewer participation, and leave the follow-on episodes open for user contributions: I have only shot three of the Episodes, and even I do not know how the next one will turn out. I'm hoping for some fun and intriguing ideas – as long as they don't involve helicopter shots or other prohibitively expensive production techniques."
Cherry is portrayed by actress
Christel Ferguson
, who is also an expert in creating cork crafts, and even wrote a published a book on the subject:
"All AboutCorks."
The web series shows actual footage of Christel as Candy slicing and hot-glueing several cork items,including reindeer, grapes, and a teddy bear.
KitchenSink Stories: Love, betrayal and good drink make for a potent mix.