The True Story of How a Sci-Fi Author Was Recruited 


to Keep a President from a War Crimes Indictment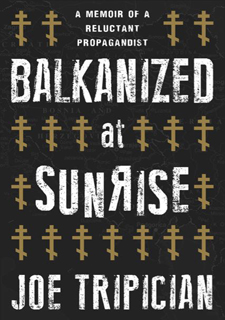 About
The Time:

the immediate aftermath of the bloody Balkan wars of the 90s
.
The Man:

a penniless science-fiction author.
The Job:

write the official biography of Croatia's President, Franjo Tudjman.
In an effort to keep Tudjman out of the

War Crimes Tribunal

in The Hague,

the Croatian government hired Joe Tripician

, author of

"The Official Alien Abductee's Handbook"

,

to pen a state-sanctioned biography

for US consumption.
The biography, far from a whitewashed piece of propaganda, became

a darkly comic and sadly tragic tale

of

deception, danger, death and desire

, where guilt abounds, but responsibility remains elusive.
"Balkanized at Sunrise"

is the true story of how Joe navigated between toadying government aides, lying politicians, harassed dissident journalists, and Croatian and Bosnian women looking for a quick visa.

It's

a fascinating memoir of political, moral, and sexual proportions.
BUY NOW:
Video Book Trailer
Review blurbs:
"I started to read and it was like the facehugger in the movie Alien: It. Wouldn't. Let. Go. It's funny as hell!! Laughed out loud as I read it!"- Mike Cane, Indie Books Blog
"A hilarious escapade. It's Balkans reading that won't hurt your head, and possibly the cutest Balkans story an American has told. With just a minimum of depth, even a lay American can start to 'get' the Balkans from this great little commercial piece of writing which one won't be able to resist reading in a single day." - Julia Gorin, writer, humorist, and political commentator
"Balkanized at Sunrise takes the reader through a politically charged adventure populated with war criminals, spies, propagandists and dangerous Balkan women. It's a threatening and thoroughly amusing journey." - Eric Gordy, PhD., School of Slavonic and East European Studies, University College London
Radio Interview with Joe (WNYC)
Stage Version
VIDEO EXCERPTS FROM THE ONE-MAN SHOW:
Directed by Gigi Van Deckter
"It's like Graham Greene meets Woody Allen." -- Slobodan Milosevic
History
Is "Balkanized at Sunrise" really true?
Most of the events in the performance actually did happen. Many events are exaggerated for dramatic effect; some are completely fictional. Some names have been changed, others have not. In the published book 100% of the events happened as written. In the stage production approximately 80% is verbatim. By the time it becomes a feature film, maybe 20% will survive.
So, what really happened?
In 1997 I was introduced to Jakov Sedlar, Cultural Attaché of the Republic of Croatia in the US. Sedlar, a noted film and theater director, first hired my company to produce an animated map of Croatia for his travelogue. He also solicited my help on a biographical film about Croatia's then President, Franjo Tudjman.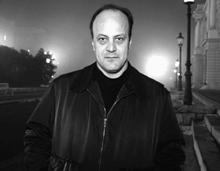 Jakov Sedlar
Sedlar then asks me to write the official biography of Tudjman. I turned down the offer several times until I was guaranteed creative and editorial control. (pdf of author's agreement)
That began my real-life adventure: trying to keep editorial control while being a guest -- an employee, in fact, of the Croatian government -- while attempting to uncover the truth of Tudjman's reign.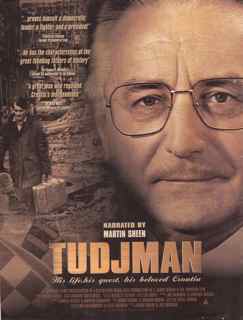 Poster from the film TUDJMAN
It involved interviews with officials from the Croatian government during the day; while at night surreptitiously meeting with opposition leaders and human rights activists.
I kept a journal during the entire trip. During the past five years I have written, and re-written the story in many forms. The result is "Balkanized at Sunrise", my attempt at making sense of it all.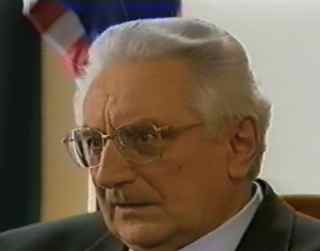 Franjo Tudjman - video still from the interview
So, why did the government of Croatia hire a New York science-fiction writer to pen the biography of its President? Why didn't they just hire a PR firm, like they did with Waterman Associates?
The party then ruling Croatia, Tudjman's HDZ party, was involved in a massive public relations effort to refurbish the tarnished President's image, to assist Croatia's entry into the EU -- and keep Tudjman out of The Hague.
They wanted to co-opt an authentic American voice, to lend the biography more credibility. Instead, what happened was the author bit the hand that fed him: in fact, he was feasting on the hand, until December of '99 when Tudjman dies, before the author gets the chance to have dessert.
Was the book published?
No. Meddling began Before the manuscript was even finished, when Vitomir Miles Raguz, then advisor to the Croatian Mission to the UN, writes a "top secret" memo criticizing the book -- and sends it to top Croatian government officials.
Miles Raguz
The author refuses all requests by Jakov to make changes to the book (titled "In Tito's Shadow"). Jakov even presented me with a letter ostensibly from the publisher of Harper-Collins in London. (No one there ever heard of Sedlar).
Meanwhile, the Balkan Press has begun to report the story:
A portion of sales go to the creation of the Graphic Memoir Version:
See the samples for the graphic memoir version of BALKANIZED AT SUNRISE, with illustrations by BRETT WELDELE (THE SURROGATES).
Related
Joe in Novosti (June 22, 2017)
Joe in Croatia's Daily Newspaper Vecernji List
Joe in Croatia's Globus Magazine
"Who Saved Bosnia" Round Table Discussion
Dayton Peace Accords: Ten Years On
Presidents, War Crimes and the Paid Writer
Joe in Croatia's Novi List Newspaper