"Ozark Melody"
Jeff Buckley recorded the alien-inspired song
"Ozark Melody" with me and my musical partner Frederick Reed in the summer of 1996.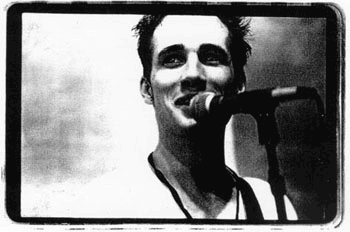 Listen to the song on the music player at the bottom right column of this page.
Check out, download, and remix the original tracks to this rare session at
"Remembering Jeff Buckley" podcasts:
Rolling Stone article (archived)
The Official Alien Abductee's Handbook
It began when I told Jeff about my alien book I had written. Fred handed him a mandolin, which he claimed he never played before in his life. But he played it like he was born playing it. He just started strumming on the mandolin singing "Oh the aliens are coming." I quickly started writing the rest of the lyrics, and the rest, as they say, is musical history -- of a sorts.
While I wrote the lyrics, Jeff and Fred worked out the tune, strummed mandolin and guitar, and recorded the entire song in one breakneck four-hour session. All three of us sang (with me way in the background). Towards the end of the song Jeff had started vocal improv on the aliens saying "They had gun racks, Union Jacks, and everythang..." You can hear him at the end saying "Don't come back, you somabitch".
Jeff received wide acclaim and notoriety with his 1994 debut album "Grace" (Sony Records). His death in May of 1997 shocked everyone who knew him and loved his music.
Jeff loved recording this alien song. Everything fascinated him, including aliens and UFOs.
During the session I could see, behind his incredible musical virtuosity, a mad and mischievous twinkle in his eye.
OZARK MELODY

Lyrics:

WELL THE ALIENS ARE COMING

THEY'RE COMING WHILE I'M STRUMMIN'

THEY FILL ME UP WITH SUCH A SENSE OF PRIDE

WHEN THE ALIENS DO TAKE ME

I HOPE THAT THEY WILL LET ME

BRING MY LITTLE SISTER FOR MY BRIDE.

THE SPACE MEN WITH SKIN OF GRAY

TOOK MY BABY CHILD AWAY

NOW THEY SAY THEY WANT A SECOND DATE

I'M REALLY KIND OF FLATTERED

THOUGH I KNOW IT DOESN'T MATTER

JUST THINK OF IT AS INTERSTELLAR RAPE.

THE ALIENS WILL HELP ME

I KNOW THAT THEY CAN LIFT ME

LIFT ME OUT OF EARTH'S VELOCITY

THE ALIENS HAVE SHOWN ME

IN THEIR SPACE CRAFT AS THEY HOLD ME

THEIR SPACE-AGE OZARK MOONSHINE RECIPE.

IN THE KITCHEN I'VE GONE WILD

WITH SPICES HOT AND MILD

YES, I'M THE PLANET'S NEW AGE JULIA CHILD.

I'M COOKIN' UP A PRESENT

A TEN-POUND FRISKY PHEASANT

THEY'LL STUFF IT LIKE THEY STUFFED ME -- WITH A SMILE

THE ALIENS ARE RECRUITING

OVER HILL AND DALE THEY'RE LOOTIN'

FOR KINS AND COWS AND EVEN CHICKENS, TOO.

THEY TOOK MY COUSIN BILLY

NOW HE'S MORE THAN SILLY

I WISH THEY'D TAKE MY AUNTIE MARY LOU.

NOW THE ALIENS DON'T LIKE ME

'CAUSE I GUESS I TRIED TO BITE 'EM

IT'S JUST MY WAY OF BEING KIND OF CLOSE

THEY THREW ME IN A PASTURE

NOW I'M AGING FASTER

FASTER THAN A FREE-RANGE COUNTRY ROAST.

WELL THE ALIENS ARE COMING

THEY'RE COMING WHILE I'M STRUMMIN'

THEY FILL ME UP WITH SUCH A SENSE OF PRIDE

WHEN THE ALIENS DO TAKE ME

I HOPE THAT THEY WILL LET ME

BRING MY LITTLE SISTER FOR MY BRIDE.

Copyright 1996.

Music by Jeff Buckley and Frederick Reed

Lyrics by Joe Tripician

(P) Frederick 4 Music, ASCAP